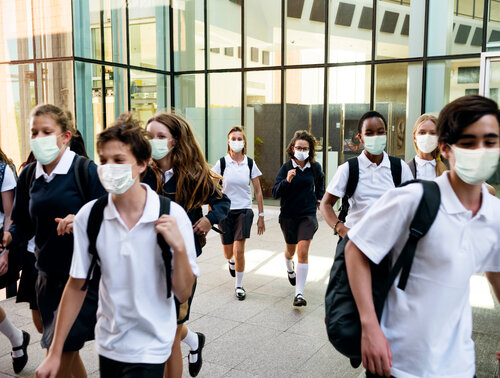 With pupils making their return to school over the next few days, coupled with the lifting of  the majority of  coronavirus restrictions across the UK, it is only natural for both parents and pupils to have questions about what to expect. In this article we look at the rules surrounding mask-wearing, self-isolating and testing for school pupils.
Will children need to self-isolate if they are in contact with a pupil who has tested positive?
From 16th August, children under the age of 18 are no longer required to self-isolate if they have come into close contact with a person who has tested positive. They will, however, need to take a PCR test as soon as possible, and if the result is negative they will not be required to take any further tests or to self-isolate.
Will pupils have to take covid tests to attend school?
At the start of the Autumn Term 2021, schools will be asked to provide and offer pupils two lateral flow tests. Secondary school pupils in England, and their families, will also be asked to carry out two lateral flow tests per week.. However, lateral flow testing is voluntary and children will not be prevented from attending school where they do not carry out this testing.
What practical changes will there be to coronavirus restrictions in schools?
The way children attend school has been subject to constant change and adaptation over the last 18 months. Most notably, the previous system of "bubbles" that was in place in schools throughout the last academic year – where pupils only mixed within a fixed group – has now come to an end. Schools are also no longer required to have staggered start and finish times for pupils. Some schools may have opted to keep these measures in place, but there is no legal requirement, and parents should be mindful that this could be reviewed at any time.
Will pupils need to wear face masks to school?
In England, face coverings are no longer required in schools, although some schools have asked that their pupils continue to wear them. Similarly, social distancing is no longer necessary. However, face coverings are still mandatory on public transport in Scotland, Wales and Northern Ireland (and on any Transport for London service), so parents must consider how their children will travel to and from school and check the requirements regularly to ensure that the government advice, as well as the expectations of the individual transport company, are followed
In Scotland, masks are still compulsory in all secondary schools including in classrooms.
In Wales, face coverings must be worn by secondary school pupils and staff in all areas where social distancing cannot be maintained – including the classroom.
Test and Trace and schools, nurseries and colleges
NHS Test and Trace remains responsible for contact tracing in schools, nurseries and colleges. When a child tests positive for COVID-19, they (or their parent/guardian) will be contacted by Test and Trace and told that they must self-isolate. Parents (or the child if they are old enough) will be asked to provide details about their recent close contacts, both whilst in school and out in the wider community. Contact details of close contacts should be provided to NHS Track and Trace where possible.