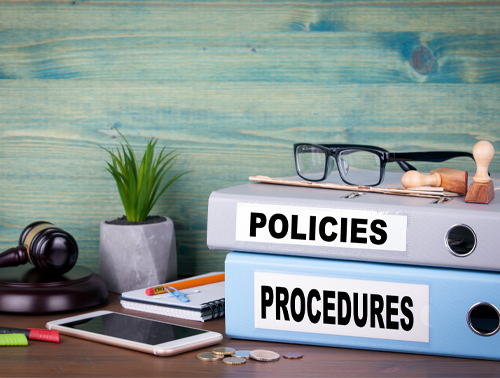 A recent Employment Tribunal decision highlighted the importance of ensuring policies are followed when dealing with disciplinary issues.
In the case of Kane v Debmat Surfacing Limited, the Claimant was found to have been unfairly dismissed.
Background
The Claimant was absent from work due to a period of ill-health.  The Respondent alleged that on the first day of his absence, the Claimant was seen at a Social Club by another colleague and that he lied to his employer as he said he had been in bed all day when he was visiting the Social Club.
The Respondent notified the Claimant that he was being investigated for dishonesty and a breach of company regulations and following an investigation and hearing, the Respondent found that he was guilty of a serious and wilful breach of the company's rules, which they considered to be gross misconduct. The Claimant appealed the decision but the original dismissal was upheld.
Employment Tribunal Findings
The Employment Tribunal found as follows:
The investigation undertaken by the Respondent was not one which a reasonable employer would have undertaken;
A fair disciplinary procedure was not followed; and
The appeal process was not what might be expected from a reasonable employer.
The Employment Tribunal found that the Claimant had been unfairly dismissed but did consider that if a fair procedure had been followed, the likelihood of the Claimant being dismissed would have been 25%.
Why did the Employment Tribunal make these findings?
The Respondent failed to ensure the disciplinary hearing was conducted by an independent person (a key witness and the person to whom the original complaint was made were heavily involved);
There was a lack of evidence and inaccuracies in dates provided by the Respondent in respect of when the Claimant had been seen at the Social Club and on which day he was contacted by telephone and said he had been in bed all day;
The Employment Tribunal also found that there was nothing in the Respondent's disciplinary procedure that prohibited employees from attending a Social Club, the Respondent acknowledged at the hearing that attendance at the Social Club was not gross misconduct; and
The Respondent made an assumption that he should not be attending the Social Club because of his condition and they should not have done so. The Respondent also assumed that he should have been shielding due to the coronavirus pandemic. However, at that stage, the Claimant had not yet received notification to shield.
This is an interesting decision and shows the importance of policies and ensuring investigations are conducted reasonably and fairly. It is important that employers ensure sufficient evidence is obtained and that the investigation is conducted by an independent person, even if that means an external investigator has to be appointed.
It is helpful for employers to review policies regularly to ensure they are up-to-date.  If you would like to review your handbook and/or policies, please contact our Employment solicitors today.