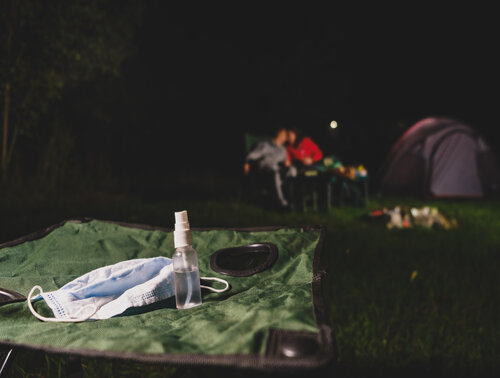 It's that time of year again when the nights start to draw in, and temperatures take a tumble. With Halloween and Bonfire Night fast approaching, you may be thinking about having a fire in the garden. 2020 has been a unique year, which has posed unprecedented challenges. As events fall foul to Covid-19, and many people prepare to retreat to their homes for the autumn, we'll take a look at the law on bonfires and the impact Covid-19 has had on plans to celebrate the 5th November. 
Is it legal to burn household waste at home?
There is no law governing garden bonfires, but there are nuisance laws in place, which are designed to protect others. As such, you cannot burn household waste in your garden if there is a risk that it will harm others. As an alternative to lighting a fire, it is advisable to consider recycling or composting. You should be able to find out more about recycling facilities or initiatives in your area by contacting the local council. 
Health and safety considerations
Burning waste may seem like a good idea if you've recently moved house, or you've carried out a revamp or renovation project, but there are important health and safety considerations to bear in mind. Bonfires generate a lot of smoke, and they can get out of hand. This means that you can put your own health and safety at risk, as well as that of others. It is possible to make a complaint if a neighbour is having a bonfire in the garden, and if smoke escapes down the road or through the neighbourhood, fines can be handed out. It's particularly important to avoid bonfires in built-up areas and close to road networks. Smoke can affect visibility, increasing the risk of accidents. 
The impact of Covid-19
Covid-19 has turned the world on its head in 2020. As the infection can cause severe respiratory symptoms, it is crucial to recognise the potential impact of burning fires on public health. Members of the public are advised to avoid lighting fires in their gardens. This will help to reduce exposure to smoke and also enable people to make use of outdoor spaces without worrying about their health. At the moment, many of us are spending more time at home than usual, and this means that we're getting out into the garden or enjoying fresh air on terraces or balconies. If people are burning fires, this can make it unsafe to do this. Many people will have questions about celebrating Bonfire Night and attending local events and setting off fireworks in their gardens. Mass gatherings are currently banned, and anyone who is looking to mark the occasion is encouraged to check local and national guidelines and pay attention to advice from the government, local councils and public health and safety experts. 
Can I make a complaint against a neighbour?
We all want to feel safe and comfortable in our own homes. If you have concerns about a neighbour burning fires in their garden, or you're worried about the smoke generated by an outdoor burner, contact your local council. In some cases, the council will issue an abatement notice, which is designed to stop the individual from lighting fires on their property. There are fines for non-compliance. It is important to note that abatement notices will only be handed out if there is evidence to support allegations of nuisance fires. 
Summary
We are currently battling a pandemic, and it is more important than ever to be aware of and to abide by the rules. At present, councils are advising against bonfires and burning waste to protect people and lower the risk of respiratory problems.