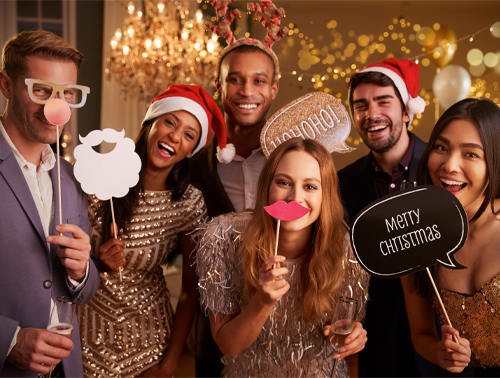 The Christmas party season is fast approaching.  With COVID cases numbers remaining high, a new variant emerging and immunity waning for the vaccinated, even though an accelerated booster programme is taking place, should employers go ahead with in-person Christmas parties?
At present, the Government has not advised employers to cancel festive celebrations. Employers will inevitably want to reward their staff for a difficult 20 months and to boost morale, but they will also need to consider the effect on the business in case of positive virus cases after the party.
What should employers do to protect their workforce if the Christmas party goes ahead?
Employers are required to provide a safe place of work and this extends to workplace events that take place off site.
Employers will need to consider the venue at which the party is taking place and understand the covid safety measures that are in place to protect the employees and to ensure that any Government guidelines/rules are being complied with by the party venue. For example, what are the arrangements for hand sanitisers, and is there good ventilation in the room hosting the party? Employers should carry out a risk assessment of the venue in advance to cover these areas and to take into account the staff attending. Employers could also ask attendees to take a lateral flow test on the day of the party and ensure staff have confirmed no exposure to contacts with covid in the past 10 days, they have not tested positive in the past 10 days and they have no symptoms.
If there is concern in proceeding with the party, employers may wish to consider postponing the event until the new year when cases may have stabilised or declined and the booster programme will have allowed more to be fully vaccinated.
For further advice, please contact Jo Cullen or Chloe Baxter in the employment team at Howell Jones.