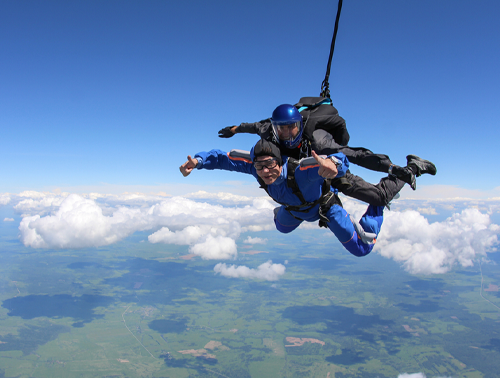 On Saturday 24th September 2022, a team from Howell-Jones Solicitors will be participating in a skydive at Netheravon Airfield in Salisbury to raise money for Save the Children's Ukraine Emergency Appeal.
There are over 15 million people that urgently need food, water and shelter. For nearly every second of the war, a child has become a refugee. In the first 100 days of the war, countless children were forced to flee their homes.
Save the Children's Ukraine Appeal are:
Working with Amazon to provide clothing, shoes, sanitary items, books and toys to children that have fled to Poland;
Providing money and voucher assistance to families to meet basic needs including food, rent and medicine;
Running safe spaces for children to socialise and play;
Providing child protection services to ensure children and families can stay together and for separated children to be reunited with their caregivers;
Offering mental health support to children and their families;
Giving educational kits and learning programmes to make up for lost learning
The people in Ukraine need peace and Save the Children are working tirelessly to give children the childhood they deserve.
The Howell-Jones Skydiving team is made up of Jess Buttaci, Andrew Petchey, Jon Creswick, Leena Hindocha, Shahida Salim, Katie Anderson and Lavanya Hart. None of them have participated in a skydive before so they will each experience jumping 10,000 feet out of a plane for the very first time.
We would be most grateful for any donations, big or small to support this wonderful cause. If you would like to donate you can access our Just Giving page here. Thank you.